Quick Connects
Some of My Favorite Books
See the menu tab "Favorites" above for more information, but here's a revolving (e.g., incomplete) quick-hit:



Job Postings with "Publishers Lunch"
Check this live-stream resource for some of the latest job postings in publishing: Current Postings at PublishersMarketplace.com
Shelf Awareness for Readers
If you'd like to receive a FREE top-quality, weekly book-reviews, e-newsletter, sign on via the box below. You may even win the drawing for a free book. (I get no commission or kickback for doing this.)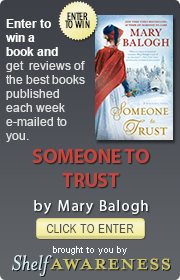 Figurative Language
The idea for a section on figurative language—metaphors, similes, and so on—sprouted when I received this spontaneous note from Windy Mule (his chosen alias): "A book is like an octopus's tentacles, drawing your mind into a world of exhilarating experiences." Below, some figurative language I have enjoyed during my own reading.  
About Writing
"Alice Munro writes with the simplicity and beauty of a Shaker box."—Francine Prose, Reading Like a Writer
"It's hardly a surprise that the memoirist looking deep into the past should find herself constantly moving between experience tasted and experience digested."—Sven Birkerts, The Art of Time in Memoir
"It should surprise no one that the life of the writer—such as it is—is colorless to the point of sensory deprivation."—Annie Dillard, The Writing Life
About Anything Else
"On every side of me the red and blue and white jacketed skiers tore away down the blinding slope like fugitive bits of an American flag."—Sylvia Plath, The Bell Jar
"I had many fine teachers during my years at Princeton, but the one I think of most often was my fortune-telling professor, a complete hag with wild gray hair, warts the size of new potatoes, the whole nine yards."—David Sedaris, When You Are Engulfed in Flames
"The pebbles in the wet asphalt look like scales on a snake's back, and the road has a nasty tendency to squirm away just before I set my foot down, so a few times I stumble over a curb and sit my ass in wet grass."—Mary Karr, Lit
"When seen full on, the feathers atop [the kookaburra's] head looked like brush-cut hair, and that gave him a brutish, almost conservative look. If owls were the professors of the avian kingdom, then kookaburras, I thought, might well be the gym teachers."—David Sedaris, personal essay "Laugh, Kookaburra"
1. d / 2. b / 3. c / 4. a / 5. e / 6. i / 7. f / 8. h / 9. g / 10. j / 11. m / 12. l /13. o / 14. k / 15. n / 16. u / 17. p / 18. q / 19. s / 20. r / 21. t